Supply Chain Challenges and Future Opportunities
The SoVa COIVD-19 Task Force invites you to the SoVa Wednesday Webinar focusing on the supply chain. We will discuss supply chain challenges from the global spread of COVID-19 at an international, national and local level featuring supply chain experts. Topics to be covered include an overview of supply chain operation, information on international trade from the Port of Virginia, and GENEDGE will unveil the newly developed COVA PPE Playbook.
There will be an opportunity for you to ask the experts questions.
Speakers:
Mark Ferguson, Dewey H. Johnson Professor of Operations and Supply Chain Management in the Darla Moore School of Business at the University of South Carolina
Chris Gullickson, Director, Economic Development at the Port of Virginia
Vince Barnett, Vice President, Business Investment, at Virginia Economic Development Partnership (VEDP)
Dean Young, VP of Industrial Development at GENEDGE
Anthony Cerilli, Interim VP of Operations at GENEDGE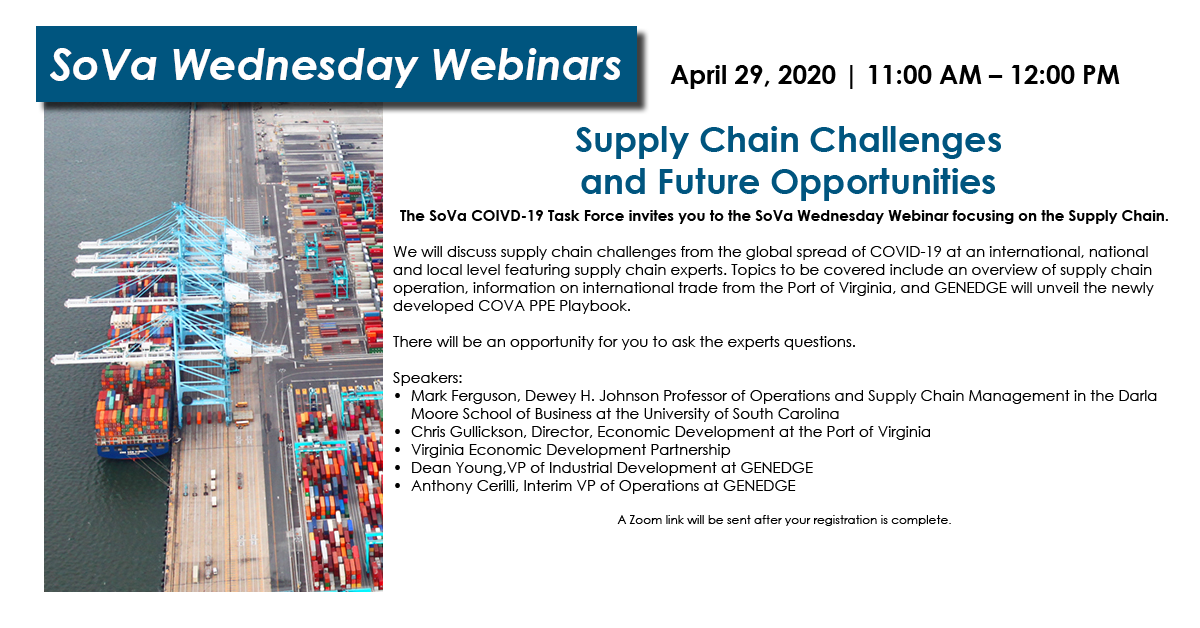 ---
SoVa COVID-19 Task Force Members: Rebecca Adcock, Patrick County Chamber of Commerce; Corrie Bobe, City of Danville Economic Development; Brian Brown, Halifax County IDA; Alexis Ehrhardt, Danville Pittsylvania County Chamber of Commerce; Mark Gignac, Institute for Advanced Learning and Research; Linda Green, Southern Virginia Regional Alliance; Mitzi McCormick, Halifax County Chamber of Commerce; Matt Rowe, Pittsylvania County Economic Development; Bryce Simmons, Patrick County Economic Development; Lisa Watkins, Martinsville Henry County Chamber of Commerce.
---
About the Organizations:
Darla Moore School of Business at the University of South Carolina
The Darla Moore School of Business at the University of South Carolina is among the highest-ranked schools in the world for international business education and research. Known worldwide for its top-ranked programs in international business, including the No. 1 ranked undergraduate program for international business, the Moore School is home to a world-class faculty and eight major research centers. Mark Ferguson is a Distinguished Business Foundation Fellow and professor of management science at the Moore School. Ferguson's research interests involve many areas of supply chain management including supply chain design for sustainable operations, contracts that improve overall supply chain efficiency, pricing and revenue management, and the operations/marketing interface.
Port of Virginia
The Port of Virginia moves cargo through world-class facilities and transports to and from markets around the globe, carrying the goods and supplies that manufacturers, corporations, and individual consumers use in their everyday lives. The deep water harbor–the deepest on the US East Coast–shelters the world's largest naval base; a robust shipbuilding and repair industry; a thriving export coal trade and the sixth largest containerized cargo complex in the United States. In an era where container ships are carrying tens of thousands of twenty-foot equivalent units per voyage, deep water and the absence of overhead restrictions is a significant competitive advantage.
Virginia Economic Development Partnership (VEDP)
Virginia Economic Development Partnership's International Trade programs provide direct support to Virginia companies committed to increasing their international export sales as a corporate growth strategy. These services help companies identify potential new markets, develop market entry strategies, and locate possible distributors and representatives for products or services – all at little to no cost to the company. With in-country consultants in over 75 countries and our international trade managers in local Virginia offices, our team of professionals are here to help Virginia companies increase their international sales. VEDP is managing the supply chain issues around COVID-19 for the Governor's office and working hand in hand with GENEDGE and McKinsey to address the solutions.
GENEDGE
GENEDGE is a Virginia agency here to help the Commonwealth, and even more so during this crisis caused by the COVID-19 pandemic. We have deployed our team of experts to help Virginia adapt and even thrive during these times. GENEDGE leverages Federal and state funding to provide a wealth of expertise and resources to Virginia manufacturers, businesses, and other organizations. We can help you solve problems, increase productivity, improve economic competitiveness, and enhance technical capabilities. Whether it's helping adapt to a distributed workforce, implement physical distancing in day-to-day operations, or utilize technology and innovative solutions, GENEDGE's experts are here for our clients and for Virginia. GENEDGE is Virginia's only manufacturing and economic development organization partnered with the Hollings Manufacturing Extension Program (MEP). Based at the National Institute of Standards and Technology (NIST), the MEP provides GENEDGE access to its national network of more than 1,400 manufacturing experts.