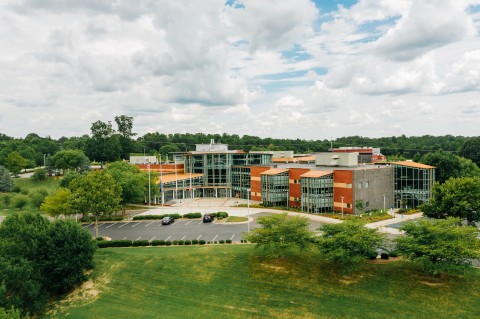 From Cardinal News | Written by Dwayne Yancey
In December 1999, Danville and Pittsylvania County were in what felt like a death spiral. The community's longtime economic mainstays – textiles and tobacco – were shrinking. The worst still lay ahead and, while no one knew that at the time, some sure sensed it. Meanwhile, in Blacksburg, Virginia Tech had just named a new president – Charles Steger – who would take office the following month.
One of the most influential business people in Pittsylvania, Ben Davenport, traveled to Blacksburg to meet with the president-elect. (Disclosure: Davenport is one of our donors but donors have no say in news decisions; see our policy.) "My hope was to engage Virginia Tech in a new kind of outreach," Davenport said at the memorial service for Steger in 2018. "Well, Charles quickly saw the infrastructure we could create. And through helping us he began the creation of a new model for the role of a land-grant university. His backing attracted support from the General Assembly and I'm happy to say the rest is history."
That "new kind of outreach" that Davenport referred to was the Institute for Advanced Learning and Research that was founded in 2002. Here's what I wrote for The Roanoke Times when Steger passed away: "At the time the idea of a high-tech research center in Danville seemed far-fetched. Today, though, Danville is a city on the rebound – and staking a claim in the new economy in a way that couldn't have been imagined back then." Eight foreign flags fly over downtown Danville to signify all the countries whose companies have invested in manufacturing operations in the city. I used the occasion to pose the theory that perhaps college presidents are more important than governors, because here was an example of Steger's legacy that was panning out nearly two decades later.
Four years have passed since I wrote those words, and it's now a full two decades since the IALR was established, and it seems worth floating that same theory again. The occasion: two separate events that took place Monday in Danville.
In the morning, Jay Timmons, president and CEO of the National Association of Manufacturers, spoke as part of the Cardinal News speaker series. After that, he toured the institute and extolled its workforce training programs as something that should be a national model. More on that in a bit.
In the afternoon, there was a formal opening ceremony for AeroFarms, which bills itself as the world's largest indoor vertical farming operation. It's probably no coincidence that one of the things being researched at IALR is … indoor farming. In January, we published a story about some of this research, with the headline – taken from a quote from one of researchers – "'The next generation of ag' is happening in Danville." At the time, we heard from one reader in the urban crescent who thought that was a ridiculous claim. And yet there was AeroFarms on Monday. "We wouldn't have gotten this if it hadn't been for IALR," Davenport told me. If he's right, then the 158 jobs projected at AeroFarms are another living part of Steger's legacy.
But back to Timmons and his tour of the IALR, where he got to see some of the equipment the institute uses for workforce training, from a bus with welding simulators that goes out to middle schools to interest students in a career in manufacturing to massive machines for adults who are training at the institute for certain jobs. Each year, about 200 people get trained on the IALR campus via a partnership with Danville Community College, but that figure is projected to grow to 800 to 1,000 a year within the next five years, while some of the institute's outreach – such as the Go Tec program aimed at schools – touches thousands indirectly.
Timmons gushed over what he saw. "Clearly best in class," he told me after his tour was over. "One of the absolute best I've seen in the country." These didn't seem just happy words, either. He said he wanted to send people from a related organization devoted to workforce training to Danville. "I want the leaders of the National Manufacturing Institute to see this," he said. "This can be a model so many communities are trying to achieve."
This isn't the first time Danville, and the institute, have garnered this kind of praise. In 2018, the governor of Arkansas, Asa Hutchinson, brought two jetloads of state officials to Danville to see what lessons they could learn that could be taken back to his state. This is just more confirmation that Danville is on the right track as it reinvents itself into an advanced manufacturing hub.
Of course, the ultimate confirmation will come if and when a big employer lands in the 3,528-acre Southern Virginia Mega Site in Pittsylvania County. "When" seems the operative word. Earlier this year, the site finished second to Savannah, Georgia, for an 8,100-job Hyundai electric vehicle battery factory. Some new information (at least to me) that got presented Monday: The site also finished in the top 5 for a semiconductor manufacturing plant earlier this year, was a finalist in 2020 for an undisclosed auto-related company that went elsewhere, and in 2019 was actually picked as the site for an auto-related company that later bailed because of the pandemic. It seems unlikely that the site will keep coming in second. For one thing, those winning sites are now all taken – and there seems to be a land rush at the moment by auto companies to find domestic locations for electric vehicle-related plants. Also, one of the things that has held back that site – the lack of site preparation – is now getting fixed thanks to funding in the current state budget. When some governor gets to make the announcement about a big employer locating at the Southern Virginia Mega Site, you can bet that the Institute for Advanced Learning and Research and its training programs will get a major mention as the reason why that firm chose the site.
Telly Tucker, president of the IALR, said that he's often told by visitors that every city should have a manufacturing workforce training center like the one the institute has. The problem, he said, is that "not every locality can afford this." That GO TEC bus that goes out to middle schools? That alone is $600,000. (It's also available to other communities; so far it's been to schools as far west as Bristol, as far east as Portsmouth.) Communities have to understand what they're good at, and what they want to invest in, Tucker said, because they can't do it all. This is where Danville has laid its bets.
There are challenges to anything. Here are some that the Danville region faces (and some of these aren't unique to Danville) as it pursues advanced manufacturing.
"We're producing more talent than we can consume," Tucker said. Translation: Some people get trained here, then move away because there aren't enough jobs here. Of course, some of those jobs won't come unless there is a sufficiently trained workforce. In the meantime, some "leakage" is inevitable, Tucker said, and can even be spun as evidence that there's a workforce available, even if it's not necessarily in the laborshed at the moment.
And then there's the challenge of persuading people – particularly parents trying to guide their children's academic pursuits – that manufacturing is a worthwhile career. "There's still a percentage who say that manufacturing is going offshore or manufacturing is going to robots," Timmons said. He makes the case that the current trend in manufacturing is just the opposite – re-shoring as opposed to off-shoring. And while many jobs will get automated, somebody's going to need to make, operate and maintain all those robots. "Today if you're a young person who gets really excited about those video games – this is it," he said. That brings us to one of the biggest challenges manufacturers face: remaking an outdated understanding of what manufacturing is. "We have some people in Washington who say they support advanced manufacturing, modern manufacturing," Timmons said. "Manufacturing today, if it has survived the financial crisis and the pandemic, is by definition advanced – it is by definition modern." Tim Robertson, chief operating officer in the IALR's Manufacturing Advancement department, puts it another way: "Manufacturing isn't dangerous and dirty. It's a true science."
Other obstacles are harder to see. The IALR works with Danville Community College to train some workers. Robertson said the problem is for those who want to move on to an engineering degree from a four-year school. He said many students from rural areas and urban areas have difficulty getting accepted into engineering programs because either their math skills aren't good enough or certain classes were never offered. Robertson faulted what he called "outdated" academic programs that prioritize theory over practice. "We've had companies say, 'We don't need an employee who can do Calculus 2. We need employees who can program this robot.'" He called those entrance requirements a "bottleneck" to producing more engineers. Old Dominion University has recently launched the state's first manufacturing engineering technology degree, with the IALR participating as a satellite campus. Robertson said he was hopeful the new ODU program could figure out a new way to look at potential students.
One national challenge that manufacturing faces is already being addressed at the institute. Timmons said the National Association of Manufacturers wants to grow the percentage of women in the manufacturing workforce from 30% to 35% by 2030 – there are simply too many jobs going unfilled to rely one just one gender by such a lopsided margin. Meanwhile, one of the goals of the GO TEC program at the IALR is to interest more middle school girls in programs such as welding. I've heard Julie Brown, who runs the program, talk about this before. Back in May, she spoke at the Southwest Virginia Economic Summit at the University of Virginia's College at Wise. When business prospects come to her region, she said then, "we take them to the middle school. We show them those young people who are diverse and getting on welding simulators. … If you want to sell a company, show 'em a sixth grade female on a welding machine out-competing her peers." That's not just good public relations, it's a reality. Jacob Taylor, the GO TEC technical and training manager, told Timmons that middle school girls typically outperform the boys on the welding simulators. Why? The girls pay more attention to detail and typically have a steadier hand, Taylor said, two things that translate into higher welding scores. Danville, in the heart of conservative Southside Virginia, is actually pretty progressive.
Ultimately, this column isn't about hyping what the speaker in our speaker series had to say, it's about the decision so many years ago to launch the IALR, and set Danville on a different economic path from the one that it was. "As a community, Danville has that long-term vision," Timmons said. Maybe other communities can't afford all the gizmos and gear that's in the IALR, but they can't afford not to have the same kind of vision.