Brian Bradner, VP Dewberry, comments on Quest certified Southern Virginia Megasite at Berry Hill
Suitable for OEM manufacturing operations and other large advanced industrial tenants
The result of a unique collaboration amongst multiple jurisdictions in two states
Quest Site Certified as a Mega Site/Super Park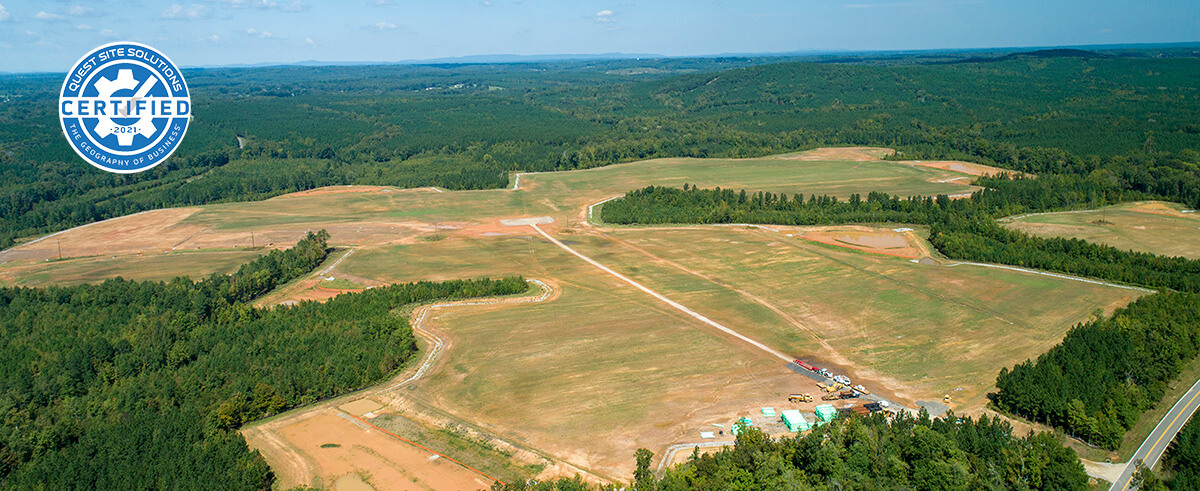 The site is located along US Rt. 311, a designated industrial roadway with no weight restrictions, which has been recently improved to handle traffic from the site resulting from a future 3,000 jobs per shift operation. In addition, the site is 2.6 miles to the designated future Interstate 785/Danville Expressway and will soon have new direct access to an existing interchange via a fully funded Industrial Connector Road that is under development and scheduled to be in service by 2024.
The Southern Virginia Megasite at Berry Hill is a 3,528-acre publicly owned megasite that's ready for single or multiple industrial users and can be subdivided to suit, with required industrial grade infrastructure already installed.
The lot sizes within the megasite can be configured to meet any client's needs with the largest possible contiguous parcel of 2,102 acres.
Phase 1 of the overall project, consisting of a completed 200-acre graded pad, is located on the corner of Oak Hill Road and Berry Hill Road (U.S. Rt. 311) and can be easily expanded up to 800+ acres of graded pad area. This pad can currently comfortably site a 4M SF facility with minimal site work. The pad's expansion to 800+ acres enables over 10M SF under roof to be located on the site along with rail sidings, employee parking, and raw/finished goods storage. Further, an additional 70-acre graded pad site is fully funded and under development within the surrounding industrial park (Lot 1) available for advanced manufacturers and/or suppliers for an OEM operation.
The megasite is suitable for OEM manufacturing operations and other large advanced industrial tenants and is the result of a unique collaboration amongst multiple jurisdictions in two states.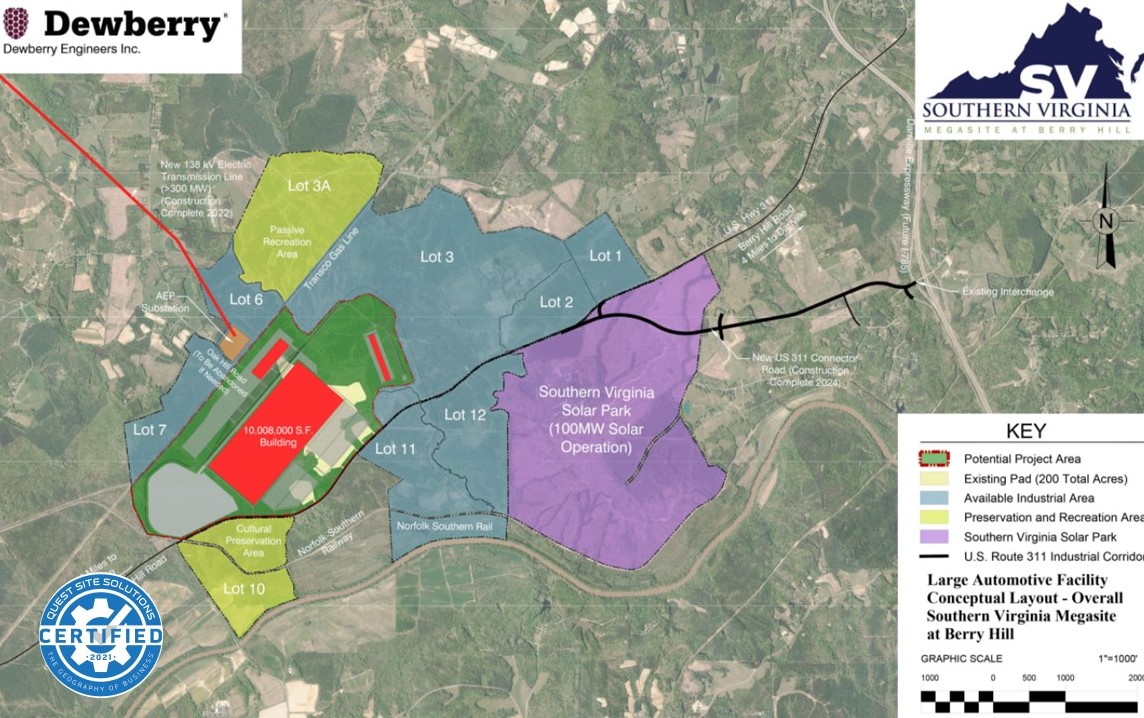 Natural Gas
The site has direct access to the Williams Transco Pipeline via an existing gate station onsite. This allows megasite industries access to large volumes of gas at any delivery pressure requested.
Water/Sewer
A combination of 16-inch and 20-inch waterlines serve the site. The water system is fed by two independent sources for redundancy and currently have available capacity of 5.75 MGD. The capacity will be further expanded to 7 MGD by 4th qtr. 2021. A 20-inch sewer line along with a 3 MGD pump station are in place and are serving the site. The sanitary sewer service can be expanded to 4 MGD if needed.
Electric
Electrical service is provided through American Electric Power (AEP), via an existing 69KV transmission line. Planning and right-of-way acquisition have been completed to install a dedicated radial feed 138KV transmission line to the megasite with an in-park substation, allowing large megawattage dual feed capabilities of 300MW+. Construction on the new transmission line and substation will begin 3rd qtr. 2021 and will be completed by 2nd qtr. 2022 – this timeline can be expedited if needed by a committed tenant. Further, the site and park is located next to a 125MW solar facility, with battery storage, that is under active development and expected to be completed in 2022.
Rail
Norfolk Southern currently provides Class 1 rail to the property and has 2 access points for lead tracks to the pad site dependent upon Company's operations. The site is uniquely situated along a spur line that is in close proximity to and connects with the Piedmont Corridor. This location and alignment enables Norfolk Southern to have the flexibility of arranging and orientating rail cars without impacting a high-traffic volume corridor – resulting in a higher level of service for the Company needs. There is also an existing rail switch on the spur line that provides the option of a transload facility to serve the entire park.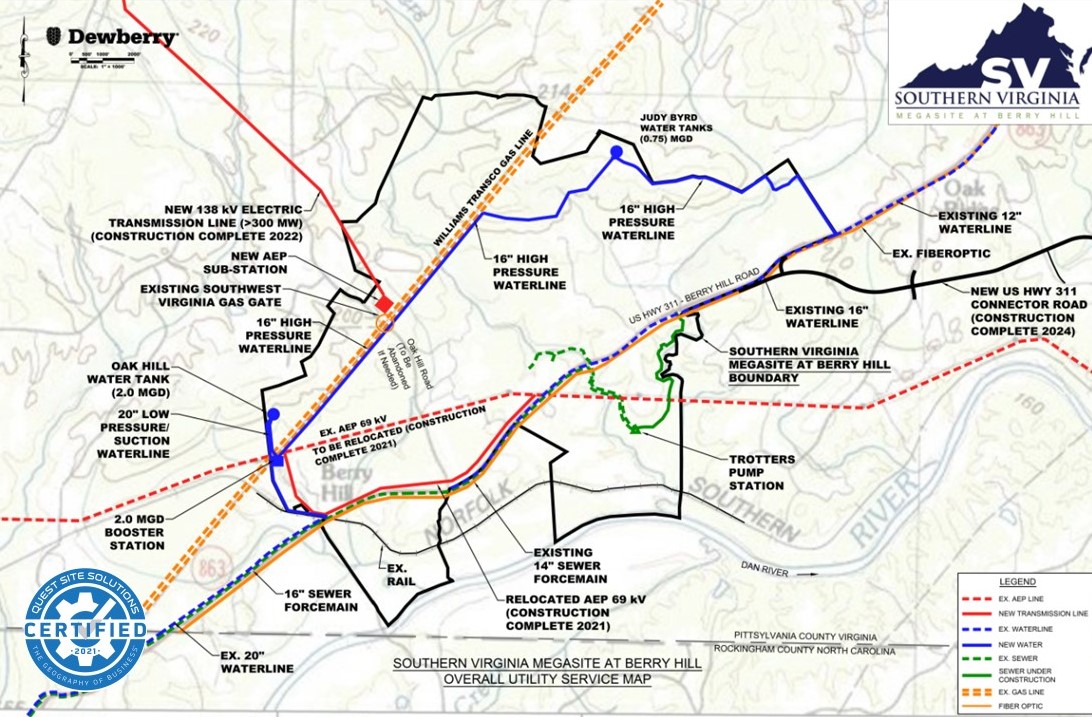 ---