Suitable for OEM manufacturing operations and other large advanced industrial tenants
The result of a unique collaboration amongst multiple jurisdictions in two states
PDF Downloads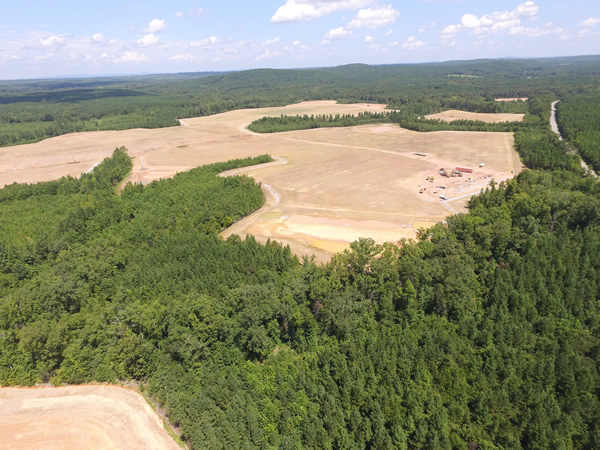 The Southern Virginia Megasite at Berry Hill is a 3,528-acre publicly owned megasite that's ready for single or multiple industrial users and can be subdivided to suit, with required industrial grade infrastructure already installed.
The lot sizes within the megasite can be configured to meet any client's needs with the largest possible contiguous parcel of 2,102 acres.
Phase 1 of the overall project, consisting of a completed 166-acre graded pad, is located on the corner of Oak Hill Road and Berry Hill Road (U.S. Rt. 311) and can be easily expanded up to 900+ acres of graded pad area. Phase 1 development can comfortably accommodate a 1M-sq.-ft. facility with minimum site work.
A combination of 12-inch and 16-inch waterlines currently serve the site, and an additional 20-inch line is currently under construction; when completed in 2nd quarter 2019, the ultimate water capacity for the megasite will be over 6 MGD. The water system serving the megasite will be fed by two independent sources.
The megasite's 3 MGD sanitary sewer system has been designed and engineered, with the first phase of gravity sewer, pump station and force main under construction and scheduled for completion by 1st quarter 2019.
The site has direct access to the Williams Transco Pipeline via an existing gate station onsite. This allows megasite industries access to large volumes of gas at any delivery pressure requested.
Electrical service is provided through American Electric Power (AEP), via an existing 69KV transmission line. Planning is underway to install a radial feed 138KV+ transmission line to the megasite, allowing large megawattage dual feed capabilities.