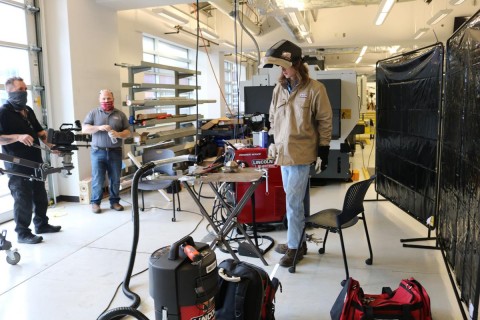 Article by: Katrina Moses Wilson | Danville Register & Bee
Precision machining — the art of taking something away from a block of metal to create an end product — remains in high demand and Danville Community College graduates are making about $43,000 or more a year as a starting salary in the industry.
Brian Jackson, vice president of workforce services at Danville Community College, said careers in this field include aviation, defense, medical (heart catheters, knee replacement) and automotive where they will manufacture parts.
For example, if an engine in an airplane has had a part that has been worn out or is outdated, airlines may call a machining shop to create that part because that engine part is no longer being built. They will send the specs and the shop will create the items for them using precision machining.
"Precision machining is a process that will be around forever," Jackson said. "We're always going to need pieces and parts to be replicated. There will always be a demand."
In the United States, as labor costs have gone up, machining shops have gone offshore, he said. In Danville, they are trying to bring back advanced technology from China, Thailand, Japan or Korea where labor is inexpensive.
Jackson provided another example of why graduates of the 2-year DCC program are needed.
"The Baby Boomer generation is retiring at record numbers," he said. "As such, I am creating openings in the precision machining field that need to be filled because parts still need to be made. There will always be an influx of that need."
An example of a company where his students may start a career in precision machining is BWX Technologies.
BWX Technologies in Virginia makes pieces and parts for nuclear reactors that go on ships and submarines for the United States Navy. They have hired DCC's students after graduation.
Numbers
For the 2018-19 school year, the machining skills classes enrolled 56 students. Last year, there were 83.
In the precision machining technology program, 89 students were enrolled for the 2018-19 school year. In the 2019-20 school year, about 114 took the same program.
Those numbers dropped to about 100 last year, mainly because COVID-19 did not allow students to be as hands-on, Jackson said.
Machines
One thing that is common in this industry are people who excel with the highly advanced computer numerical control machines.
The goal is to have them leave college with a skillset that gives them a liveable wage, Jackson said.
"They are gaining a career, not a job," he said. "Once I train you to be a precision machinist, no one can take that away from you."
Jackson also noted graduates from these programs are critical thinkers, do well in math, geometry, are great at teamwork and have strong communication skills.
"In today's market, I need more programmers than I need more machinists because it is more automated," he said. "My job here at DCC is not just to teach you how to manually make these parts, but how to make them from a computerized standpoint."
Students who graduate from this program complete it in two years and are sometimes in their early 20s. They are graduating from DCC with no debt and they are making $43,000 or more after completing the program.
"I love going around our community and seeing students who went through our programs with careers in this field," Jackson said. "They are the future of us."