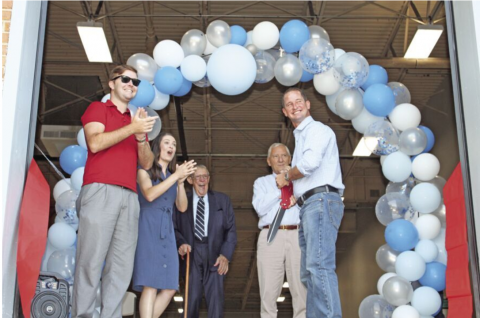 Sterling Lighting LLC, a manufacturer of premium, professional-grade landscape lighting fixtures, cut the ribbon on the firm's new Danville headquarters Thursday morning. The company has relocated to the River City from Sterling after ten years of business in the Urban Crescent.
"Danville is really becoming a manufacturing hub on the East Coast and we're excited to help lead that effort and help other companies do that as well," said Co-Founder Patrick Harders.
Sterling Lighting began to seek a new facility in 2019 after the company underwent unprecedented growth. Harders, along with co-founders Damien Sanchez and Josh Palmer, considered facilities in NoVa, West Virginia, Kentucky, Indiana and Pennsylvania.
"We searched all over, but we kept getting drawn back to Danville," Harders said. "Every time we searched anywhere, it just kept pointing back to Danville. We knew this was going to be our home."
As of 2015, Sterling's products were fabricated in China. Installations constituted the principle revenue stream.
"We wanted to have a facility where we could manufacture our own products right here in Danville," Harders said. "It is so important for our company to manufacture products here and for our country to have a manufacturing base."
The new 24,675-square-foot facility occupies a former Dan River Mills manufacturing site at 116 Maplewood Street, right off Piney Forest Road in Danville. The facility was constructed in 1961 as a duckpin bowling alley.
"Danville has a love of good, solid buildings that can be remodeled and readapted for new use," said Linwood Wright, economic development consultant. "We now have a lighting manufacturer, which Danville has never had, operating in this facility. That is a great story – four major businesses over a period of 60 years utilizing a building that will continue to exist and play a key role in the economic health and development of Danville, Virginia."
Harders credited Danville city leaders and the Institute for Advanced Learning and Research (IALR) for inspiring the metro D.C. company's HQ relocation to Danville.
"I have referred to Danville many times over the last few years as 'The Comeback City,' and I truly believe that with all my heart," said Danville City Councilman Lee Vogler. "It's no secret that, for several years, Danville went through some very tough times. We were about as low as you could possibly get, and then things began to change. I truly believe that in this decade, you're going to see an era of growth and prosperity in Danville like you haven't seen in a long, long time."
Del. Danny Marshall (R-14), who represents the City of Danville and parts of Pittsylvania County in the Virginia House of Delegates, also spoke at the ceremony.
"When Ross Perot said, 'You're going to hear that giant sucking sound,' you can hear it right here in Danville," said Marshall, alluding to the 12,000 employees who lost their jobs when Dan River Mills went under in 2007. "We have been trying to reinvent ourselves, and Sterling is just another example of what we're trying to do here – bring great companies that will bring great jobs here to our citizens."
A crowd of more than 50 attended the ribbon cutting ceremony.
"As we grow, we will continue to add employees and we will continue to bring jobs to Danville," said General Manager Jim Heim. "We are excited about that."
Marketing Coordinator Laura Harders noted that Sterling Lighting is looking forward to opportunities for support and collaboration with advanced manufacturing specialists through the IALR and Danville Community College.
"We believe manufacturing is the backbone of our freedom because it gives us the fortitude and the strength to stand independent as a country," Patrick Harders said. "It is so important to us that we lead bringing manufacturing back to America. We are so excited for this endeavor."
In 2022, the company will fully implement its brand-new line of made-in-America fixtures. Also on the horizon is Independence Audio, a line of outdoor audio systems Harders said he is extremely excited about.
"We will be the very best outdoor audio system in the world, and they will be manufactured right here in Danville, Virginia," he declared. "As people turn on their lights around America and turn on their outdoor audio around America it will forever be associated with Danville, Virginina.
Article from Chatham Star Tribune