By Tara Bozick - Work It, SoVa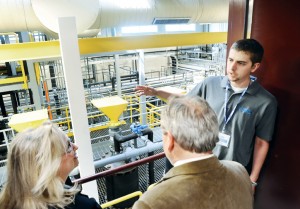 One wood sugar producer invested about $10 million at the Institute's Sustainable Energy and Technology Center as it works to scale up to commercial production.
Virdia recently finished construction of its automated demonstration facility at the new "Sentec" building at the Institute for Advanced Learning and Research. The company, founded in Israel five years ago, is fine-tuning its process to extract plant sugars from trees so they can be used in renewable chemicals or plastics, biofuels and nutritional products. The lignin, or carbon framework of the wood, can be burned for energy or heat or used as carbon fiber to make lightweight materials.
"We're trying to make a new type of economy emerge," Virdia CEO Philippe Lavielle told attendees of the Sentec ribbon-cutting on Wednesday.
Lavielle envisions building an economy on grown renewable resources rather than on polluting fossil fuels. Virdia would produce and ship a liquid plant sugar solution to be used as feedstock for multiple applications.
Virdia already employs 34 research chemists, engineers and other staff in Danville. That number could reach 50 as the Redwood City, Calif.-based company plans to start building its first industrial-scale facility next year, Lavielle said. Virdia hasn't located a site for the manufacturing facility yet, but would place it near forestry resources.
Product samples from the Danville pilot center will be sent to Virdia's partners. Already, Virent Inc. in Wisconsin used Virdia's sugars in high-performance jet fuel.
The flagship tenant of the Sustainable Energy and Technology Center exemplifies what investors envisioned for the region, said Institute Executive Director Liam Leightley. The Virginia Tobacco Commission, City of Danville and the Higher Education Trust Fund invested $8.5 million in Sentec.
The center is poised to lead marketable research, inventions and start-up companies in Southside as it serves as a "catalyst for developing a bio-based industry that engages the agricultural community as a partner and supplier of biomass," said Virginia Secretary of Technology James Duffey.
Duffey and Mary Rae Carter, deputy secretary of commerce and trade for rural economic development, agreed the project will help fulfill the governor's mission of making Virginia the "energy capital of the East Coast." The energy sector, which employs 30,000 Virginians and has a direct economic output of $17.5 billion, shows incredible growth potential, Carter explained.
"You're seeing a whole new world of technology and capability," said Tim Manning, Virdia senior vice price of operations, during a tour.
The facility
About the Sustainable Energy and Technology Center:
25,000 square feet
Rooftop solar panels
Solar thermal panels
Vegetated roof
Rainwater cistern
Recycled content in building products
Energy-saving lights and heating, ventilation and air conditioning systems
Bio-based floor tile and cork flooring
Native drought-tolerant landscaping
Designed by Dewberry in Danville and constructed by New Atlantic Contracting Inc. of Winston-Salem, N.C.
Anticipates LEED Gold certification
(Source: Dewberry)