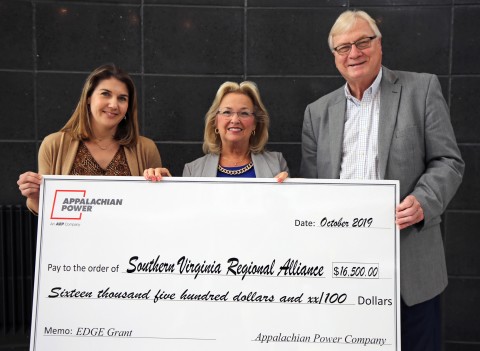 DANVILLE, Va., November 19, 2019 – The Southern Virginia Regional Alliance was one of nine organizations in Virginia and West Virginia awarded funding by Appalachian Power's Economic Development Growth Enhancement (EDGE) program. The program is part of Appalachian Power's ongoing effort to promote local and regional programs that attract industry and support business expansion in the company's service area.
"We are thankful for the support that Appalachian Power provides to our area and for this grant funding to market the region," said Mark Gignac, Board Chair for the Southern Virginia Regional Alliance. "We value their ongoing support of the electric infrastructure that provides high quality and cost-effective pricing to attract and retain jobs in our region."
A total of $125,000 was recently distributed among organizations to help support local economic development efforts ranging from site development and strategic planning to marketing. The funds were provided by Appalachian Power in the form of grants to government and nonprofits that oversee programs and initiatives tied to economic development.