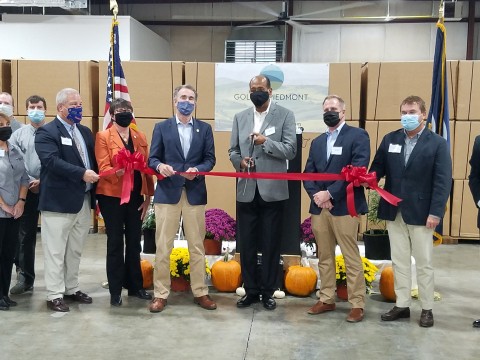 A large-scale hemp processing and cannabinoid (CBD) oil extraction facility, Golden Piedmont Labs, has begun production in Halifax County, playing a key role in Virginia's No. 1 industry: agriculture. The processing plant is the first of its kind in Virginia.
"This is an exciting day for Halifax County and an exciting day for Virginia," said Gov. Ralph Northam as he looked out on the crowd of investors, stakeholders, state, county and local leaders gathered at Golden Piedmont Labs' grand opening and ribbon-cutting ceremony Thursday morning. The facility is housed in the former Blue Ridge Beverage Company building, at 2525 Houghton Ave. in South Boston.
Halifax Industrial Development Authority (IDA) executive director Brian Brown remarked the opening of the hemp processing facility marks "the beginning of a new day in Halifax County. "We are pleased to celebrate the opening of Golden Piedmont Labs and a new era of hemp production for Halifax County and the Southside region," Brown said.
Golden Piedmont Labs president Steve Mize told the crowd he envisions the hemp industry as being "very profitable" in Southside Virginia and noted that hemp products have the power to change people's everyday lives because of their medicinal qualities.