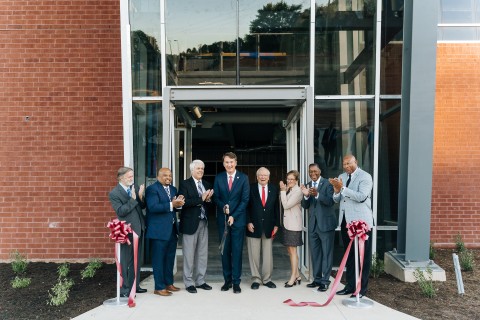 $28 million center invests in manufacturing technology, industry partnerships to support Virginia's competitive assets
Danville, VA (October 5, 2022) – The Center for Manufacturing Advancement (CMA), a statefunded project located on the campus of the Institute for Advanced Learning and Research (IALR), is open and ready to attract new businesses and jobs to the Commonwealth of Virginia.
"As we strive to make Virginia the best place for veterans to live, work and raise a family, I am thrilled to announce the groundbreaking of our new IALR Center for Manufacturing Advancement in Danville," said Governor Glenn Youngkin. "This partnership will diversify, transform and grow Southern Virginia's production capability for the Submarine Industrial Base as well, marking another major win for Virginia's defense economy and labor market."
Virginia Governor Glenn Youngkin joined IALR and industry partners for a ribbon cutting to recognize the CMA as Virginia's newest pro-business platform for developing manufacturing technologies that support business expansion in the region and skilled workforce development.